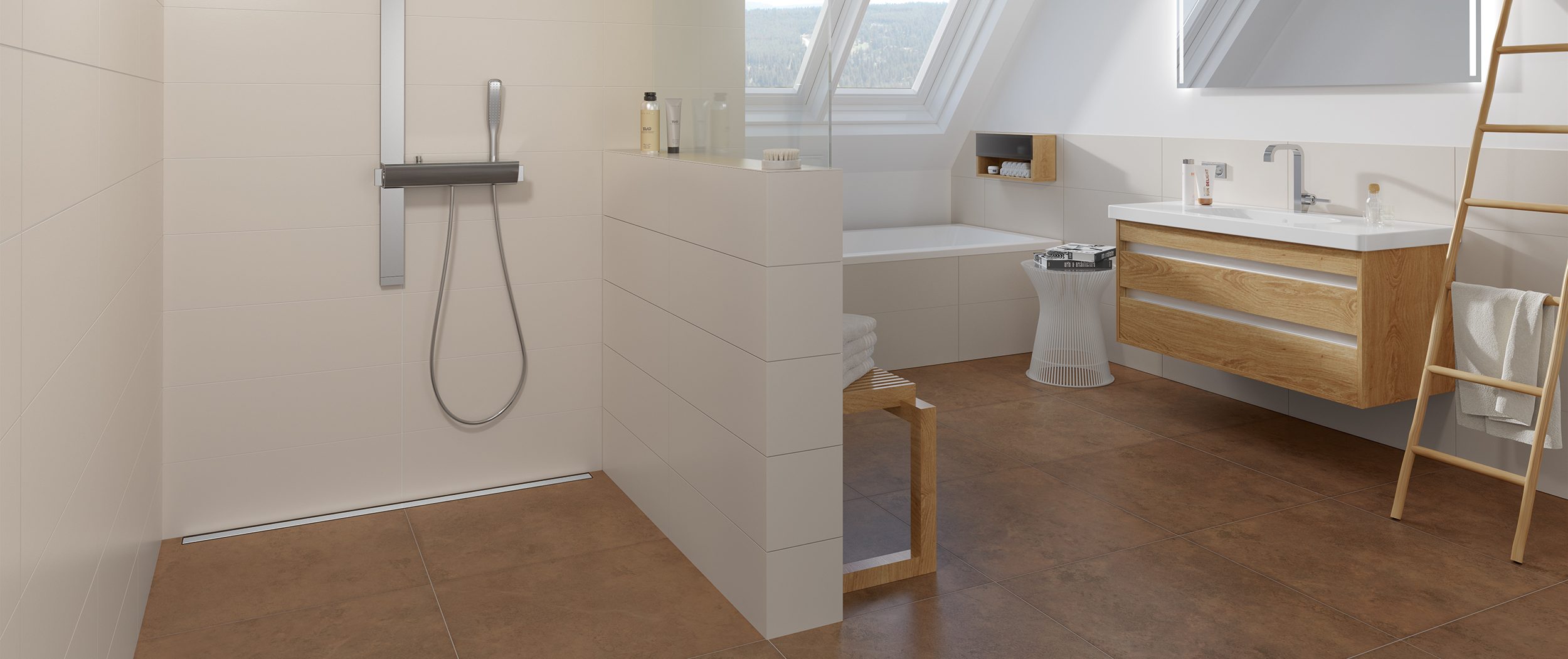 These presloped and waterproof shower bases come with an integrated linear drain channel and wedi
®
Fundo Click and Seal
®
Drain unit. You can select one of our linear wedi Premium drain cover options to fit the preferred design.
Key features: 
Linear Shower base: single piece base featuring a 4-way slope design and level perimeter for safe recessing into a subfloor construction.
Linear Shower Module consists of two components: line drain module and extension module, featuring a one-way slope with close to wall drain placement.
Here is how you select the right shower base size to fit the job in most cases:
Determine the distance between the center of the 2-inch pipe in the subfloor to all framed walls and where you plan to have the inside of a wedi curb (as if it were another framed wall).
Take note of the longest dimension of the two distances measured along each axis (east/west and north/south.)
Select a shower base that covers 2x the length of the longest dimensions along each axis.

This will ensure that the shower base will cover the entire shower area and, if needed, can be trimmed on site to position the integrated wedi drain over the 2-inch wastepipe in the subfloor.
This method of calculating the correct shower base works for square and rectangular spaces with a mostly centered drain location. Where drains are very close to a wall, one of wedi's off-center drain bases should be used, if possible.
Refer to our Technical Drawings section to select the correct base that covers your shower dimensions, and will properly align the integrated wedi drain with the floor drain pipe.
Technical Performance Data
Under conditions required in ANSI A118.10-1999
4 week Shear Strength Dry: 216 psi 12 week Shear Strength Dry: 217 psi 100 day Shear Strength Wet: 201 psi
ASTM D4068 / ANSI A118.10-1999
Waterproofness of Assembly
Passed, wedi Fundo Kit assembly (complete system)
Fungus/Bacteria Resistance
Floor and Trench Drain Compliance
Passed, Compliant (ICC PMG 1189)
ASTM D751-11 (requirement 8 lb/in width)
For product retail pricing, please see our Illustrated Retail Price List (USA or CA), available in the downloads section below.
wedi Fundo® Linear Shower Base
wedi Fundo® Linear Shower Base
wedi Fundo® Linear Shower Base

Step 1 Complete!
You've chosen your shower base, now choose your building panels!
Downloads most relevant to this product page are displayed automatically.  If you would like to view other downloads for other products, you may sort by category (Product name & language) or tags (Specific type of file).
Should the file you're looking for not be listed, please email marketing@wedicorp.com for assistance.