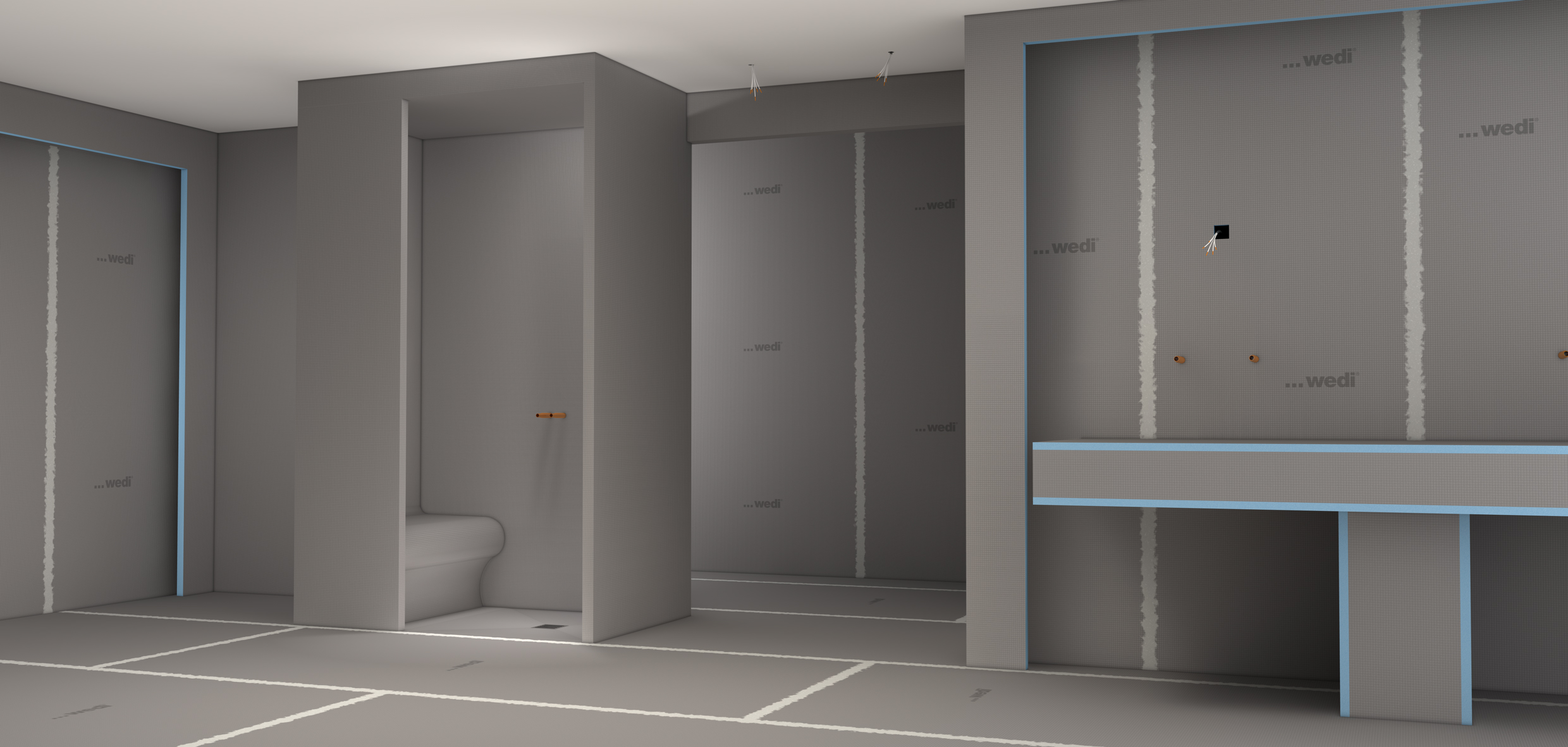 Product information
wedi Building Panels are needed for shower walls and combine a tile backer board and waterproofing into one step–providing a safe system installation.
They are the ultimate versatile wet room tile backer board, and often used within the range of wedi shower systems for walls, floors, countertops, and more. wedi Building Panels can be applied either horizontally or vertically to shower walls and wet areas, which allows more flexibility with your wedi panel installation. The panels are fastened quickly and easily in place using wedi screws & washers. Once the panels are secured and seams & fasteners sealed with wedi Joint Sealant, tiling can begin immediately after the sealant dries to the touch. This saves considerable time and money compared to traditional methods.
wedi Building Panel has set the premium standard level for foam core tile backer boards because it is not only inherently waterproof and lightweight, but it also provides a perfect bond surface for tile setting and is a strong backing for the tile. Its solid waterproof core eliminates concerns like pinholes/voids and delamination typically associated with alternative waterproofing products. Seams, transitions, and fastener locations are prepared in a safe and waterproof manner without creating build up to ensure a great tiling experience and result.
The wedi Building Panel has been successfully tested under ANSI 118.10 (test standard for load-bearing, bonded, waterproof membranes) as well as ASTM C578 (Standard Specification for Rigid, Cellular Polystyrene Insulation).
wedi Building panels are:
For showers, tub & wet room walls and ceilings
Ready for tiling upon installation
100% waterproof due to their extruded polystyrene (closed-cell) foam core
Easy and clean to cut to size using a utility knife, circular saw, or handsaw
Available in sizes and thicknesses that can accommodate different projects and applications
Technical Performance Data
Standard Specification for Rigid, Cellular Polystyrene
4.3hr ft. 2 F/Btu/in (R Value for 1" wedi = 4.3)
Under conditions required in ANSI A118.10-1999
4 week Shear Strength Dry: 216 psi 12 week Shear Strength Dry: 217 psi 100 day Shear Strength Wet: 201 psi
ASTM D4068 / ANSI A118.10-1999
Fungus/Bacteria Resistance
ASTM D751-11 (requirement 8 lb/in width)
Heavy duty commercial use, passed
Wet 131.8 lb./Dry 196.2 lb.
No disintegration/change; Passed
No disintegration; Passed
Surface Burning Characteristics
ASTM E84-16 (NFPA 255, ANSI / UL 723, UBC 8-1) Tested as required without tile on Building Panel surface
Flame Spread Index (FSI): 20 | Smoke Developed Index (SDI) : 70 |Classification: Class A
To determine the size and quantity of wedi Building Panels you will need for your shower, please follow the steps outlined below: 
Calculate the total area of the shower wall

Multiply L x H of the wall. The height of each wall will be determined based on how high you plan to install the tile
 Add the calculated square footage of each wall together to determine the combined sum of all the shower walls
Multiply the combined area of all shower walls by 1.15 to account for about 15% extra square feet of building panel for any waste cuts

Divide the total area of the shower walls by the square foot area of the wedi building panels you plan to us4 (e.g. 4×5 ft. building panel = 20 square feet)

A total shower wall area of 115 square feet divided by 20 square feet per building panel gives us a total of 5.75 building panels.
Remember to always round up to the next whole building panel.
For product retail pricing, please see our Illustrated Retail Price List (USA or CA), available in the downloads section below.

Step 2 Complete!
You've chosen your building panels, now choose your prefab modules!