wedi® Fundo Click and Seal® Drain System
Available January 2023
Our new Fundo Click and Seal® wedi drain continues the successful performance of our previously used drain technology by ensuring safe performance over time, and offering added simplicity in assembly. The new wedi® "Fundo Click and Seal®" drain allows us to offer one drain and installation process that fits all our Fundo designs.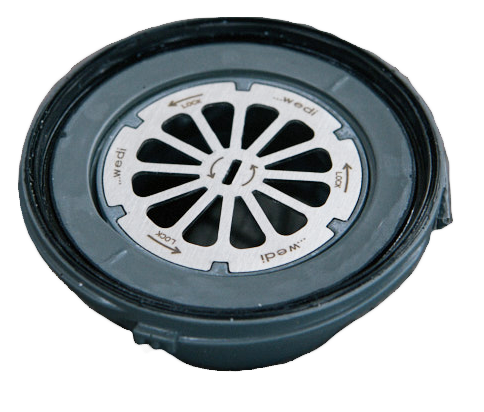 Our customers can now enjoy all features and functional upgrades with wedi Fundo Click and Seal® no matter the design of the shower, whether it is a standard point drain shower, a linear drain shower, or a curbless floor-even shower. This further simplifies the installation process and makes professional installer/crew training easier than before.
Installation Videos
The wedi Fundo Click and Seal drain can be used with all styles of wedi shower base, including our linear drains. To see how each installation is completed, check out our installation videos. Installation videos for all types of wedi products can be found on our Youtube channel!
Installation Manuals
The wedi Fundo Click and Seal drain can installed easily following our installation manuals. To view the complete Click and Seal installation manuals, scroll down to the bottom of this page and use the downloader tool!
Starting as early as January 1st, 2023, the first models and sizes equipped with a Fundo Click and Seal®drain will start replacing the current versions which will eventually be sold out during 2023.
It will be important to note that during that time two versions of Fundo systems will be supported.
The Fundo Click and Seal®drain unit will be included in the shower base box. Drain Cover units will be sold individually a la carte.
The new Fundo Click and Seal®equipped shower bases are marked "Includes Fundo Click and Seal®drain in box- select drain cover sold/packaged separately" . The shower bases carry new item numbers.
We have also simplified pricing for you. All Fundo Click and Seal®bases are now available for a consistent retail price per square foot in each of the groups: Primo, Ligno and Riolito. Ask your distributor for applicable discounts off wedi retail pricing.
In addition we have also adjusted our Fundo Kit pricing to ensure a cost advantage of 6% with every Fundo Kit when compared to the cost of products individually purchased.
Benefits of the Fundo Click and Seal® include:
Commercial grade, solid drain body

 

Fundo Click and Seal®Drain fits all Fundo shower bases
Drain Assembly included with every Fundo shower base or kit
Drain cover can move both vertically and laterally to accomodate any size tile

 

Drain cover can be selected a la carte, but standard cover remains included with Kits
Drain is equipped with extra weepholes for faster draining of water from thinset mortar layer
Hair strainer now included in drain assembly
Fast, clean and simple installation

 

No plumbing license, glue or sealant needed
"Click" sound as check point marks visible from top view into drain confirm the drain has properly sealed to wedi base.

 

Seals to ABS, PVC, or cast iron waste pipe- even on drain/floor pipes up to 5° out of plumb
A special kit is available to seal to copper pipe
Can be cleanly and safely disassembled and reassembled, if plumbing needs to be replaced