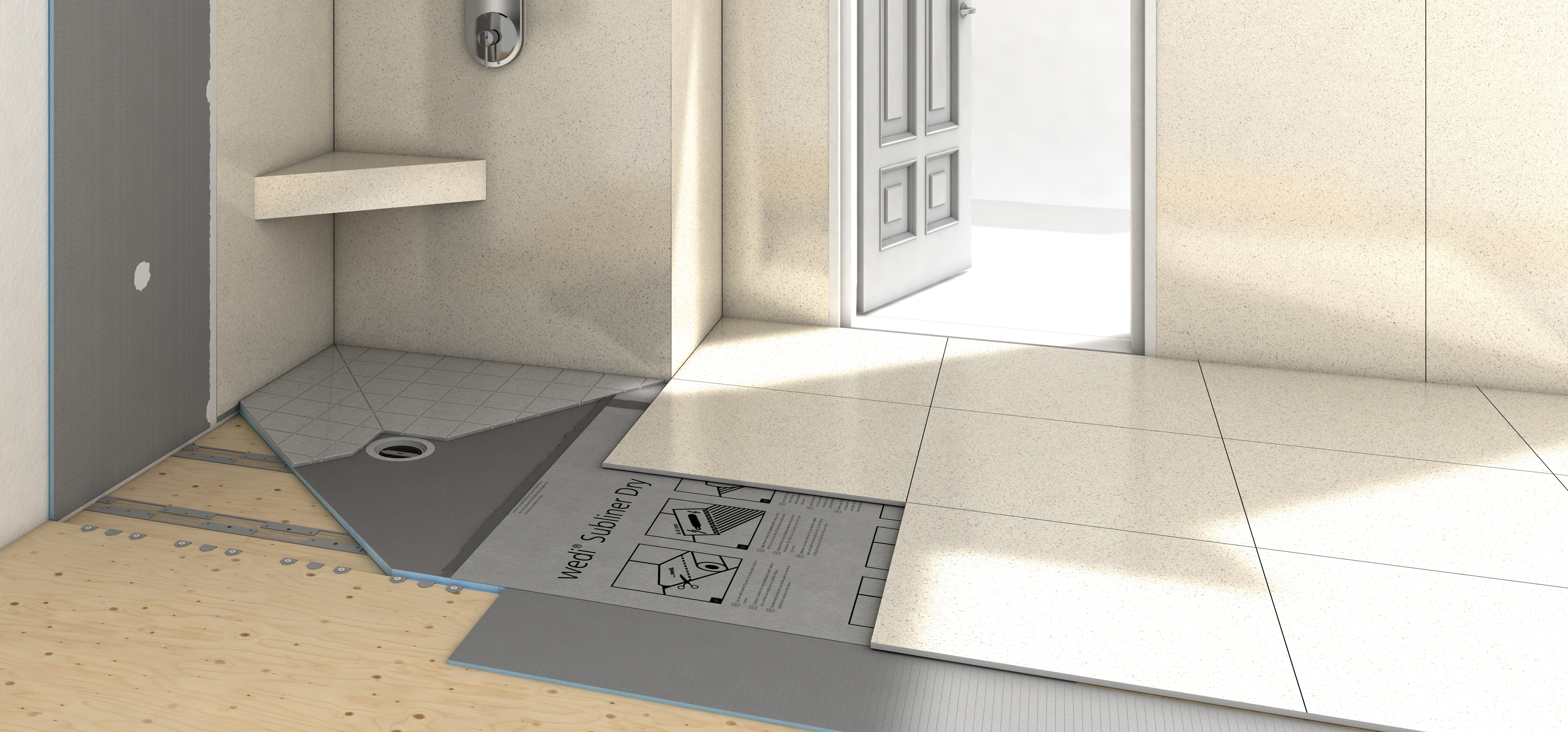 Product information
wedi Fundo Ligno is designed to provide for a low profile base thickness of only 3/4" (19 mm). This allows for a fast and flush installation into a subfloor assembly without cutting into floor joists. The system is designed to work without a curb.
Enjoy the ease of installation without creating a structural hazard. Eliminating the need to cut into floor joists maintains the structural subfloor panels installed between the floor joist under the wedi Fundo Ligno shower base. Barrier-free showers may be exposed to heavy point loads (e.g. wheelchairs) and require strong support. You can confidently rely on the structural strength of the wedi base and subfloor as well as the wedi Fundo Ligno's traditional strong cement based surface for the ideal tile bond using any suitable cement based tile adhesives or grout.
As always with wedi Fundo Shower Systems, wedi Fundo Ligno is designed to interlock and work with wedi Building panels, wedi Joint Sealant, wedi Fasteners, wedi Seats and Benches, wedi Niches and many more accessories, that truly complete your shower installation and waterproofing system.
The installation is fast, modular but customizable, and covered by wedi's full system warranty.
Installation Manuals, Requirements/Limitations and Warranty
Product Approvals & Certification
Approvals and certificates applicable to entire Fundo Shower System incl. wedi Building Panel:
City of New York, MEA 912-52-SM
Fundo Shower Systems & Building Panels: ICC PMG 1189 (for USA & Canada) – Download Here
Meets all applicable ANSI/ISO Standards incl. ANSI 118.10 and IAPMO PS106
TCNA handbook recognized for wall, floor, countertop, & more applications
City of Los Angeles Approval M-100017
BBA (British Board of Agrement)
DIN EN ISO 9001
CE Marked
Diverse State Approvals
SAI Global Watermark Certified (Australia & New Zealand)
Codemark Certified (Australia & New Zealand)
Close Accordions
Technical Performance Data
Under conditions required in ANSI A118.10-1999
4 week Shear Strength Dry: 216 psi 12 week Shear Strength Dry: 217 psi 100 day Shear Strength Wet: 201 psi
ASTM D4068 / ANSI A118.10-1999
Waterproofness of Assembly
Passed, wedi Fundo Kit assembly (complete system)
Fungus/Bacteria Resistance
Floor and Trench Drain Compliance
Passed, Compliant (ICC PMG 1189)
ASTM D751-11 (requirement 8 lb/in width)
For product retail pricing, please see our Illustrated Retail Price List (USA or CA), available in the downloads section below.
Ligno Extension Panel, Pre-grooved
12 in. x 60 in. sloped 1/4 in./ft (305 x 1524 mm sloped 2%)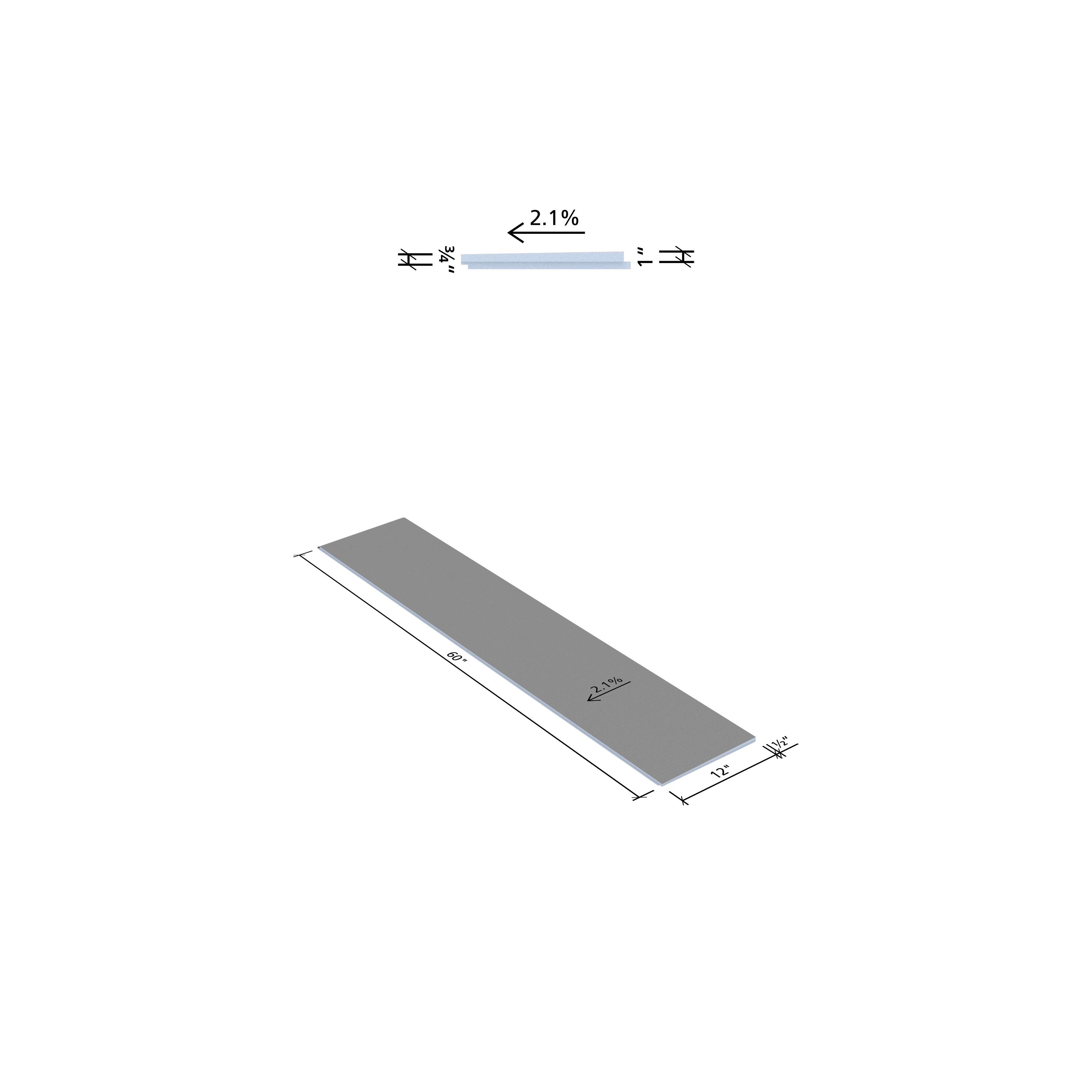 Click to View Larger

Step 1 Complete!
You've chosen your shower base, now choose your building panels!