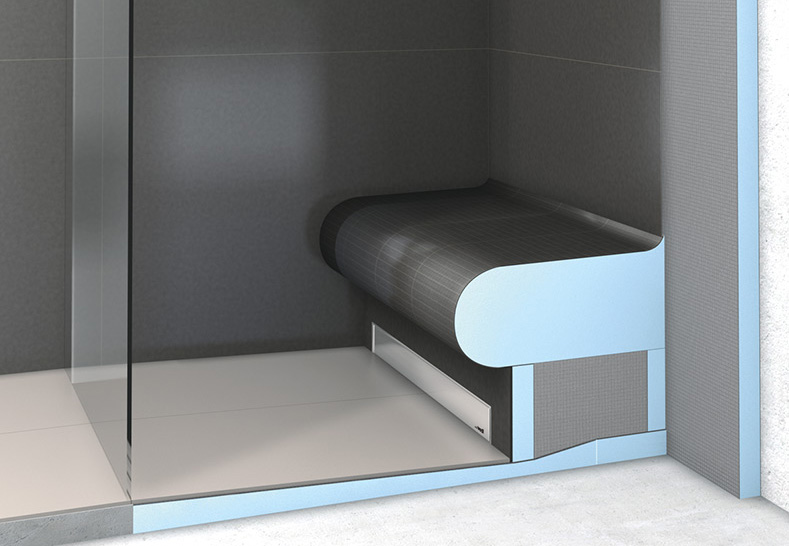 wedi Sanoasa Shower Benches
wedi Sanoasa benches are constructed to enable unmatched freedom of visual design. Both the seating areas and the carrier elements can be positioned in various ways, and their shapes and sizes can be modified for any project.
The pre-sloped benches attach to shower wall and floor surfaces using wedi Joint Sealant. With all floor-mounted options, the sloped shower floor forms a gap in areas where thin-set can be used as a filler, and mesh tape is applied over the thin-set or floor to create a a reinforced seam that does not require waterproofing if installed over a wedi shower base and system.
wedi Sanoasa Wellness Benches and Loungers
wedi takes rejuvenation and relaxation to a whole new level in the bathroom. wedi's unique, elegant wellness elements create an unforgettable spa experience. There is no limit to the design possibilities wedi offers for a customized and peaceful bath.
Modular benches, loungers, and design elements
100% waterproof and vapor-retardant with the wedi XPS foam
Insulating properties reduce vapor transmission pressure, and save energy
No need for framework support
Variety of standard products, and limitless custom fabrication possibilities
Fast, clean, and efficient installation of full prefabrication modules
Create a dream wellness oasis in any place
Technical Performance Data
Standard Specification for Rigid, Cellular Polystyrene
4.3hr ft. 2 F/Btu/in (R Value for 1" wedi = 4.3)
Under conditions required in ANSI A118.10-1999
4 week Shear Strength Dry: 216 psi 12 week Shear Strength Dry: 217 psi 100 day Shear Strength Wet: 201 psi
ASTM D4068 / ANSI A118.10-1999
Fungus/Bacteria Resistance
ASTM D751-11 (requirement 8 lb/in width)
Wet 131.8 lb./Dry 196.2 lb.
No disintegration/change; Passed
No disintegration; Passed
Surface Burning Characteristics
ASTM E84-16 (NFPA 255, ANSI / UL 723, UBC 8-1) Tested as required without tile on Building Panel surface
Flame Spread Index (FSI): 20 | Smoke Developed Index (SDI) : 70 |Classification: Class A
For product retail pricing, please see our Illustrated Retail Price List (USA or CA), available in the downloads section below.
17 in. x 17 in. (wall sides) x 4 in.
24 in. x 24 in. (wall sides) x 4 in.

Step 3 Complete!
You've chosen your prefab modules, now choose your installation accessories!