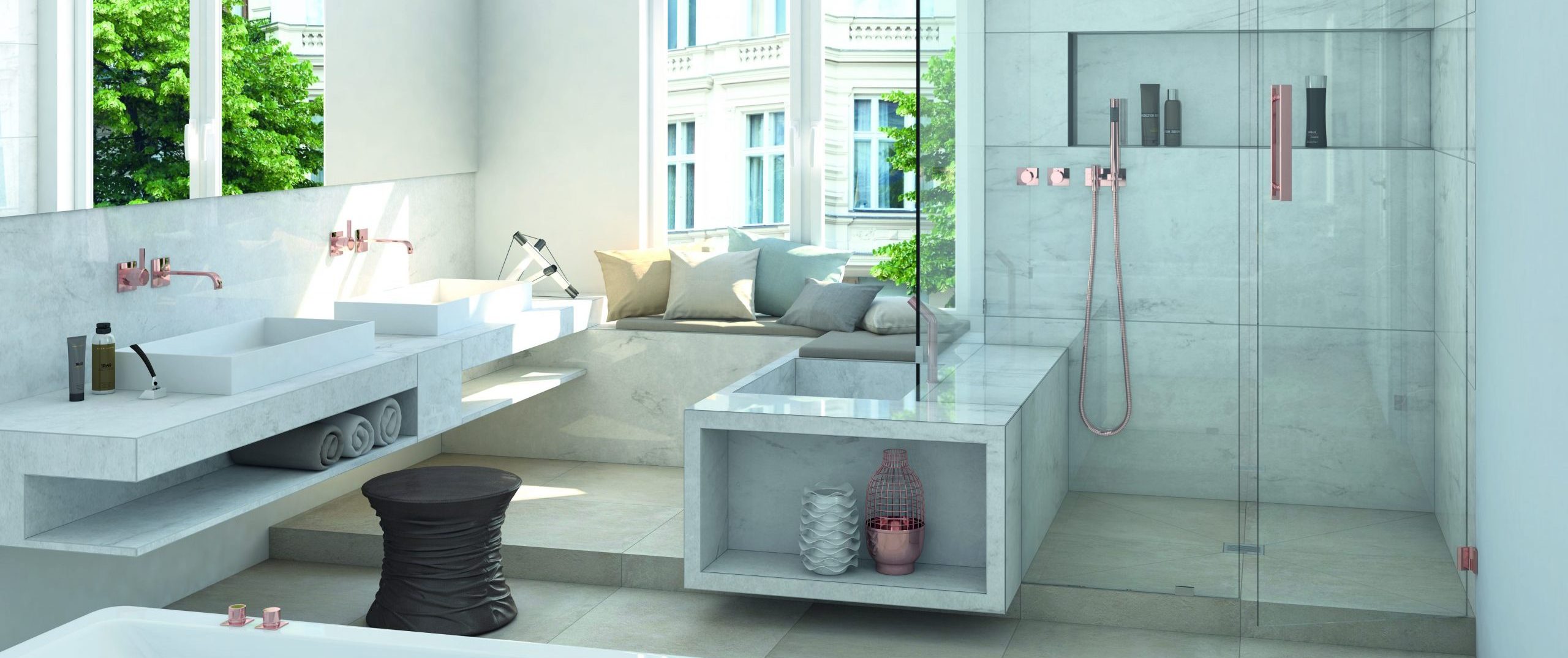 Product Info
The wedi Fundo® Primo Shower System, like all wedi Shower Systems, offers full warranty coverage thanks to its complete and natural waterproof core and range of specially engineered components. The Fundo® Primo is internally waterproof due to its wedi XPS foam's closed-cell structure, and naturally protects against mold or mildew like every wedi XPS foam based product.
It is fast and clean to cut to fit custom designs while prefabrication reduces installation time significantly. The base features a strong and pre-sloped surface, allowing for tiling immediately whether you choose mosaic or large format tiles. The wedi Fundo® Primo is primarily made to work in shower designs including a wedi curb.
Pre-sloped extension panels are available so that no limit exists for creating any size or shape for custom shower designs. The Fundo® Primo is insulating, creating a thermal barrier that can prevent cold from transferring through the tiled surface, and makes floor heating systems more efficient. It also has outstanding moisture and water exposure control compared to traditional mortar bed installations or other currently known methods for building showers, including the use of sheet or liquid waterproofing membranes which can be very thin and vulnerable or they may offer water absorption into thin-set bonded seam areas.
Kit includes:
1 – wedi Fundo® Primo Shower Base (Several Shower Base options available)
5-6 – wedi 36 in. or 48 in. x 60 in. x 1/2 in. Building Panels (depending on kit)
8-9 – 10.5 oz tubes of wedi Joint Sealant (depending on kit)
1 – wedi Curb, Lean
1 – wedi Fundo® Click and Seal® Drain Kit
1 – wedi Fastener Kit (1 – 100 count box)
1 – wedi Corner Putty Knife
1 – wedi Mixing Valve Flexi Collar
1 – wedi Flexi Collar
Optional add-ons like soap niches, seats, and benches can be purchased individually.
Technical Performance Data
Under conditions required in ANSI A118.10-1999
4 week Shear Strength Dry: 216 psi 12 week Shear Strength Dry: 217 psi 100 day Shear Strength Wet: 201 psi
ASTM D4068 / ANSI A118.10-1999
Waterproofness of Assembly
Passed, wedi Fundo Kit assembly (complete system)
Fungus/Bacteria Resistance
Floor and Trench Drain Compliance
Passed, Compliant (ICC PMG 1189)
ASTM D751-11 (requirement 8 lb/in width)
For product retail pricing, please see our Illustrated Retail Price List (USA or CA), available in the downloads section below.
wedi Shower Extension 24" x 48"
24" x 48" - sloped 1/4 in./ft. (sloped 2.10%)
wedi Shower Extension 12" x 72"
12" x 72" - sloped 1/4 in./ft. (sloped 2.16%)
Downloads most relevant to this product page are displayed automatically.  If you would like to view other downloads for other products, you may sort by category (Product name & language) or tags (Specific type of file).
Should the file you're looking for not be listed, please email marketing@wedicorp.com for assistance.