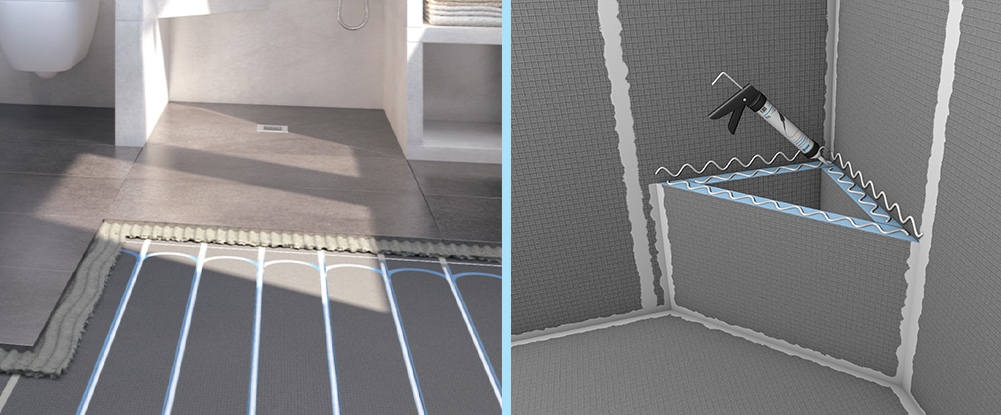 Building Panel Specialty Applications
Product information
wedi Building Panels offer endless customization and installation options. Available in a wide variety of thicknesses and sizes, they are compatible with virtually any substructure. While often used within the range of wedi shower systems, they are also a formidable tile backer board for general use on wet area walls, floors, countertops, and more. There are many specialty applications for wedi Building Panels, but it is highly recommended to follow instructions closely and use the correct size and thickness Building Panel for every application.
wedi Preline – Building Panel with pre-made channels for hydronic floor warming
The wedi Building Panel PreLine is a fully prepared building panel element for easy installation of hot water heating systems. Factory integrated recesses allow for quick and safe installation of water pipes whilst strong insulation properties of the material itself prevent heat escaping to the ground thus promote a balanced heat distribution across the entire space. Adhesion of the wedi PreLine elements to the screed floor and backfilling of the pipe ducts is done very simply with the appropriate tile adhesive (recommendation: modified thinset mortar). It truly is the perfect element for quick and waterproof implementation of underfloor heating systems.
Individual Bathroom Furniture
wedi Building Panels can be used to create an endless range of designs and grant you plenty of scope to develop your ideas for virtually all applications. Since wedi Building Panels offer exceptional moisture protection and heat insulation, your installations are guaranteed to meet the highest quality standards, no matter the shape and size you choose to create.
Countertops and Backsplashes
The wide range of sizes and thicknesses of wedi Building Panels is ideal for several applications in kitchens: Behind backsplashes or on countertops over cabinets, and eliminating the customary plywood sheet. The flat and rigid structure of the wedi Building Panel surface makes installation of special tiles better and safer. These include thin and/or large tile, mosaics, natural stone slabs, and composite materials like quartz. Especially when high rise building projects allow for repeating installation formats, the lightweight wedi Building Panels can often be pre-tiled and installed on the job in one step. The wedi Building Panels used below range from as thin as 1/8 in. to as thick as 2 in.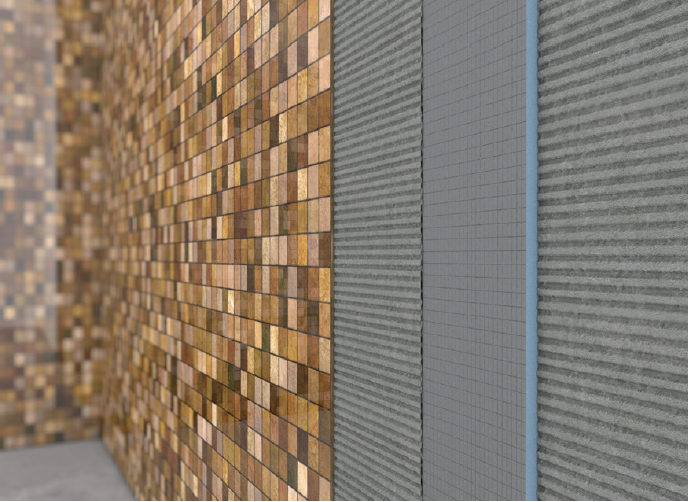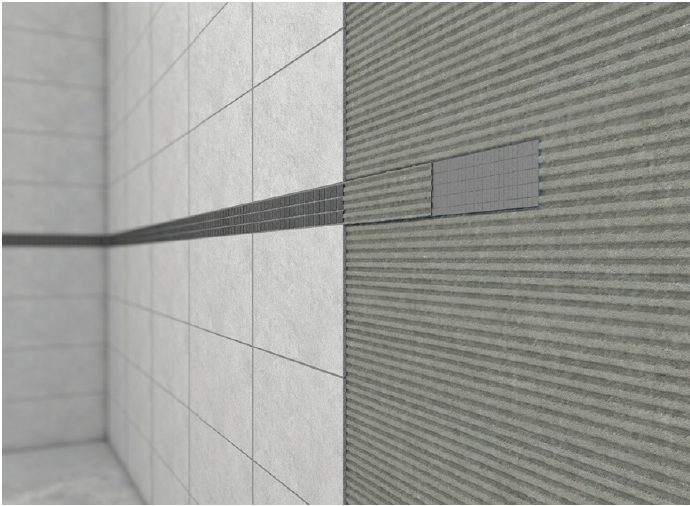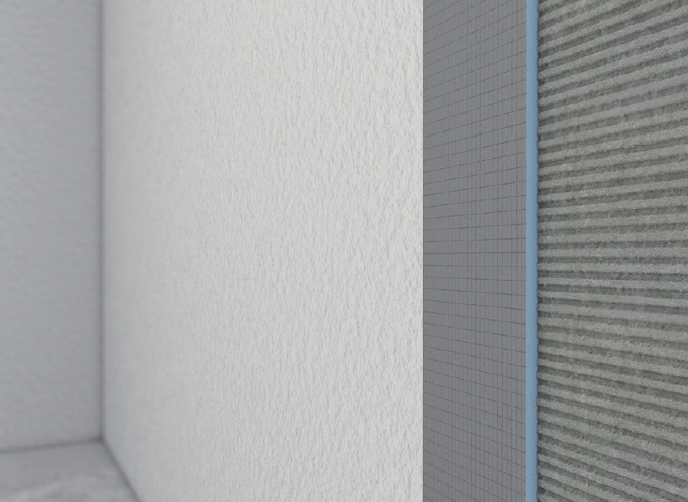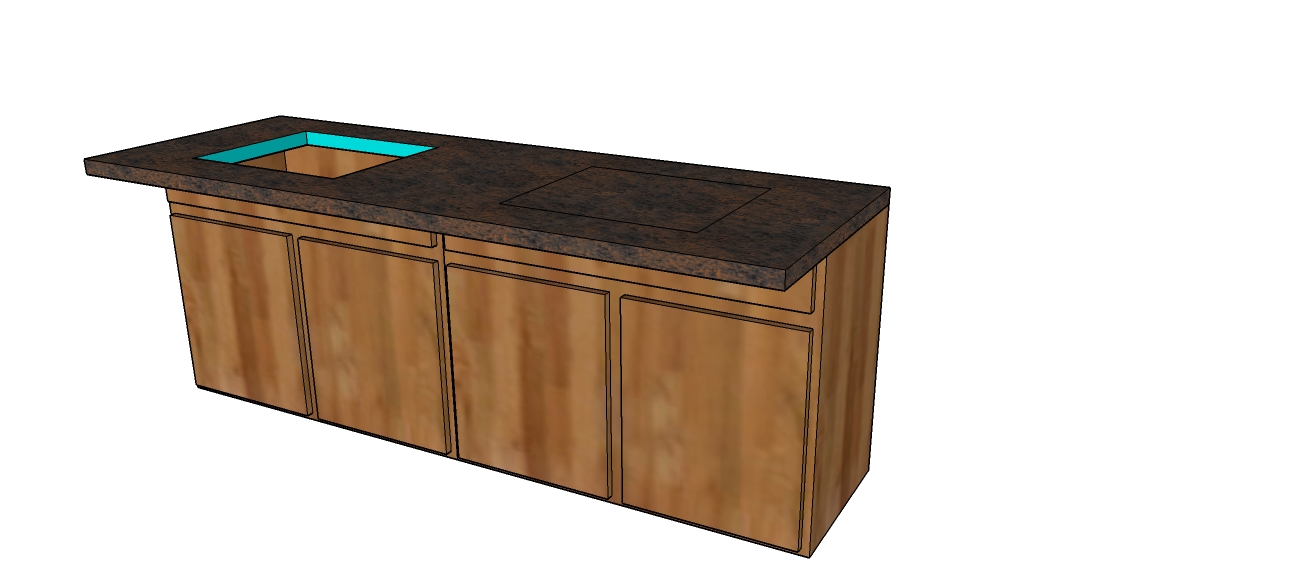 Technical Performance Data
Standard Specification for Rigid, Cellular Polystyrene
4.3hr ft. 2 F/Btu/in (R Value for 1" wedi = 4.3)
Under conditions required in ANSI A118.10-1999
4 week Shear Strength Dry: 216 psi 12 week Shear Strength Dry: 217 psi 100 day Shear Strength Wet: 201 psi
ASTM D4068 / ANSI A118.10-1999
Fungus/Bacteria Resistance
ASTM D751-11 (requirement 8 lb/in width)
Heavy duty commercial use, passed
Wet 131.8 lb./Dry 196.2 lb.
No disintegration/change; Passed
No disintegration; Passed
Surface Burning Characteristics
ASTM E84-16 (NFPA 255, ANSI / UL 723, UBC 8-1) Tested as required without tile on Building Panel surface
Flame Spread Index (FSI): 20 | Smoke Developed Index (SDI) : 70 |Classification: Class A
To determine the size and quantity of wedi Building Panels you will need for your shower, please follow the steps outlined below: 
First, you must calculate the total area of the shower walls. To do this, measure the area of each shower wall by multiplying the length of the wall by the height. The height of each wall will be determined based on how high you plan to install the tile. Next, add the calculated square footage of each wall together to determine the combined sum of all the shower walls. Account for about 15% extra square feet of building panel for any waste cuts by multiplying the combined area of all shower walls by 1.15.
Next, divide the total area of the shower walls by the square foot area of the wedi building panels you plan to use (eg: 4×5 ft. building panel = 20 square feet). A total shower wall area of 115 square feet divided by 20 square feet per building panel gives us a total of 5.75 building panels. Remember to always round up to the next whole building panel. 
For product retail pricing, please see our Illustrated Retail Price List (USA or CA), available in the downloads section below.

Step 2 Complete!
You've chosen your building panels, now choose your prefabricated modules!