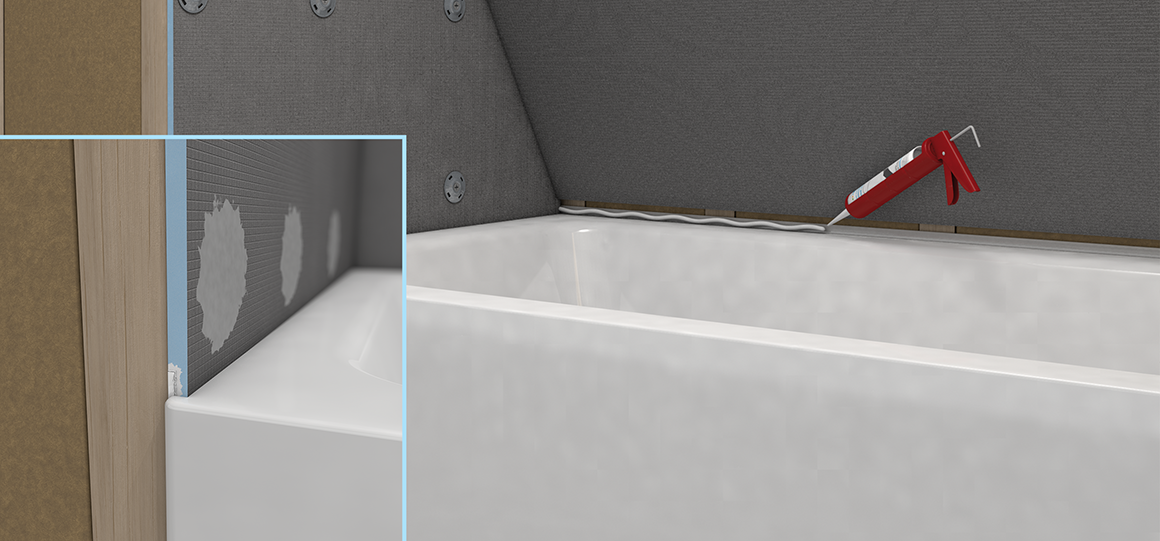 Product Info
wedi® Building Panels are the natural choice for use with tub or tray walls and tub enclosures. The panels can be installed directly to framing or over gypsum board, cement board, or directly to solid wood or concrete structures to create a waterproof underlayment for tile. They can be easily scored and shaped to provide radius surfaces on tub skirts and do not scratch tubs or fixtures during installation.
Additionally, the dimensions of the wedi Building Panels make for quick installations with standard tubs – laid horizontally the panel will span the full five foot width. Cut out a notch at the bottom edge of a wedi® Building Panel and safely connect to a tub flange with just a bead of wedi Joint Sealant in between to safely waterproof this critical connection and create plumb walls, square wall corner areas as well as a full backing for the tile all the way down to the tub's horizontal perimeter area.
Due to its waterproof nature, it's easy to see why you'd use wedi® Building Panels in wet areas. The panels do not wick water from the tub perimeter along which water will traverse. wedi Building Panels can be applied directly to studs or over other suitable non-waterproof surfaces to create a waterproof underlayment for tile and can also be used on tub decks and backsplashes or to quickly place complete tub wall surrounds safely.
When installing a tub surround wall for a tub or shower tray with only partial or no nailing flange, wedi's tub sealing tape can be used. It features a waterproofing butyl adhesion strip which can safely connect tub edge and framing before a wedi® Building Panel is placed before it. The Tub Sealing Tape also helps with creating safe, waterproof transitions from tubs to horizontal areas adjacent to such tubs.
Includes:
5 wedi® 3 ft. x 5 ft. x 1/2 in. Building Panels (914 x 1524 x 12.7mm)
5 10.5 oz tubes of wedi® Joint Sealant
1 Mixing Valve Flexi Collar
1 Flexi Collar
1 Corner Putty Knife
100 ct. of wedi Tab Steel Washers
100 ct. of wedi Galvanized Screws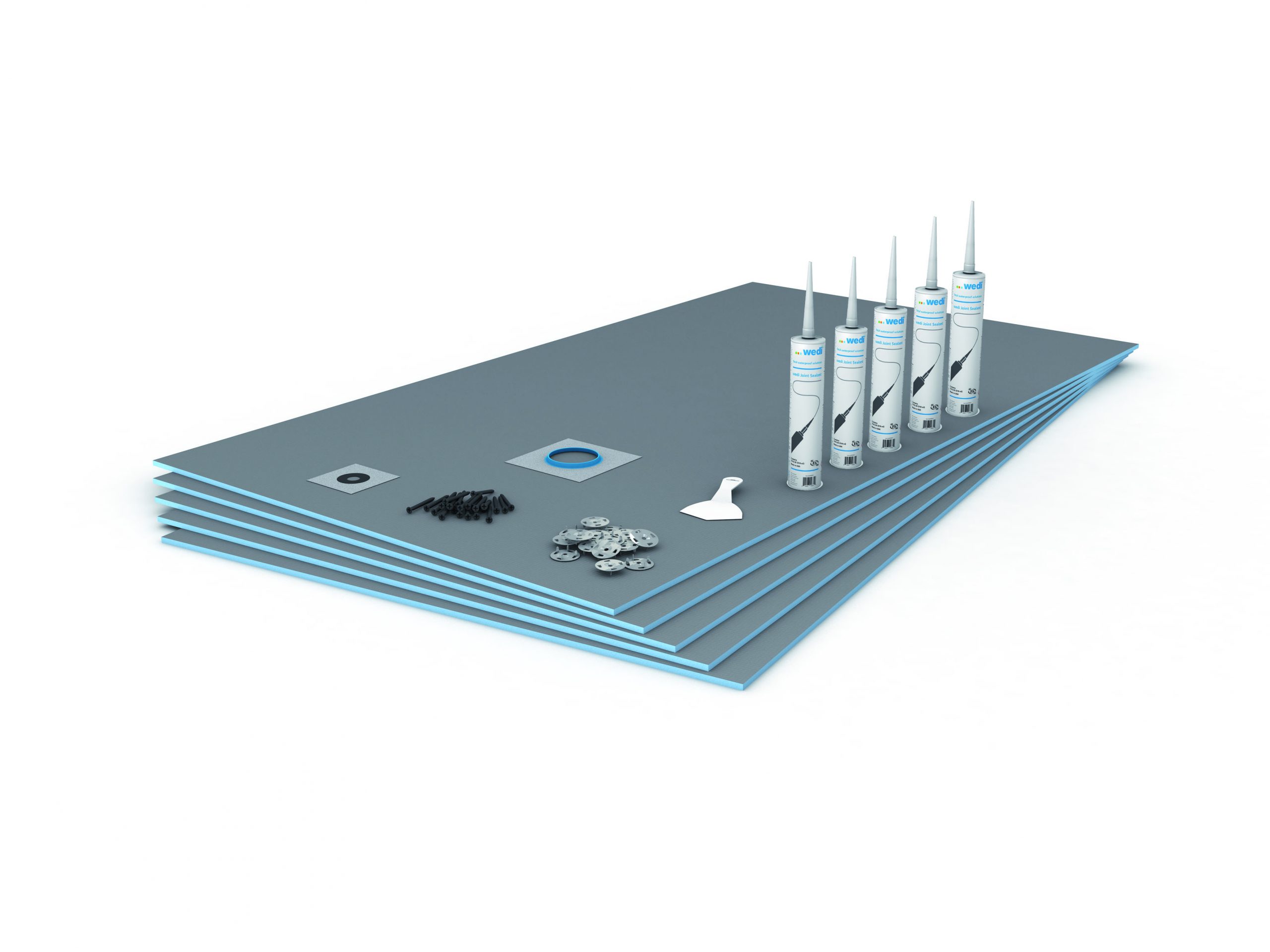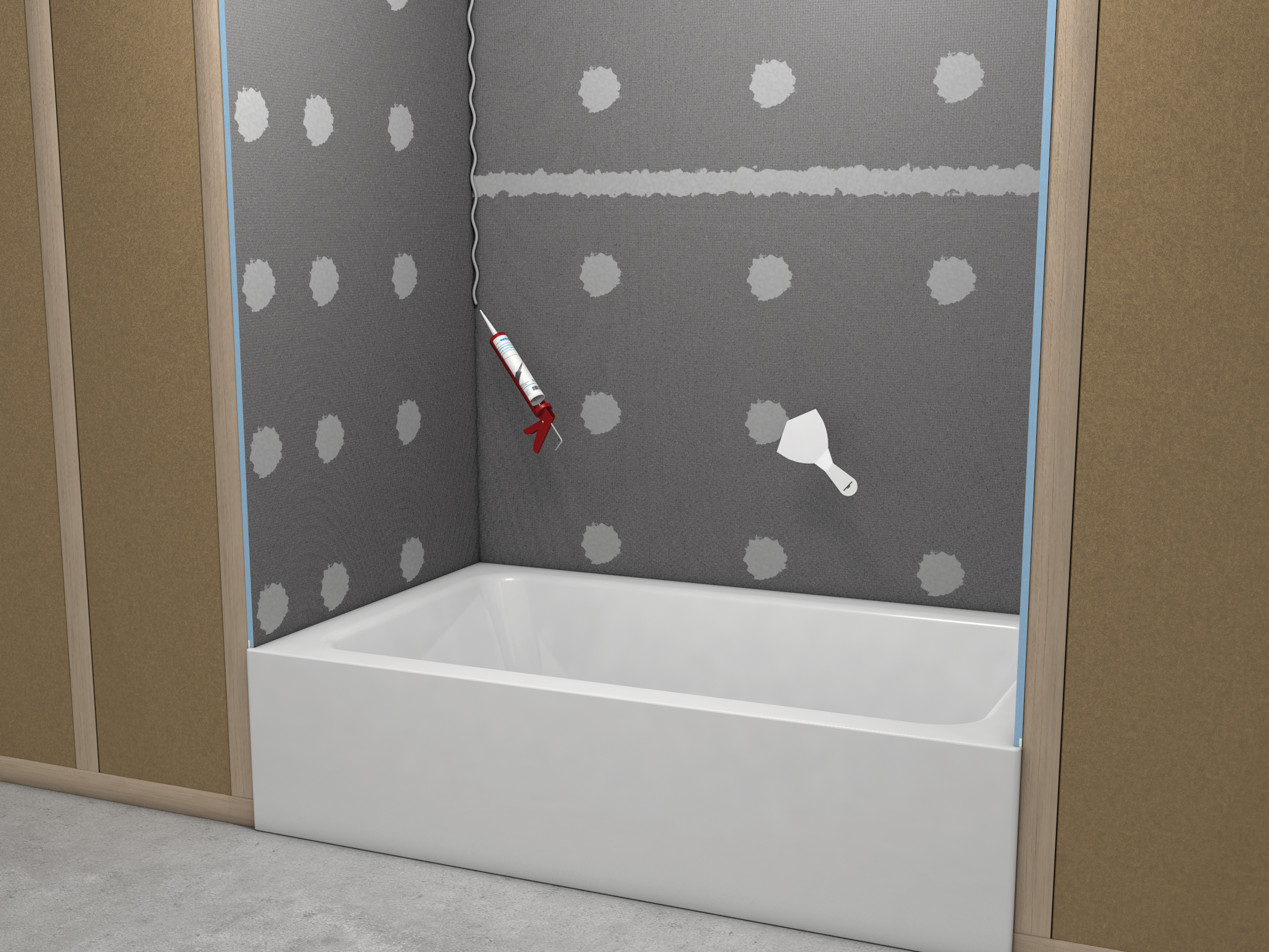 Installation Manual and Requirements/Limitations
Product Approvals & Certification
Approvals and certificates applicable to entire Fundo Shower System incl. wedi Building Panel:
City of New York, MEA 912-52-SM
Fundo Shower Systems & Building Panels: ICC PMG 1189 (for USA & Canada) – Download Here
Meets all applicable ANSI/ISO Standards incl. ANSI 118.10 and IAPMO PS106
TCNA handbook recognized for wall, floor, countertop, & more applications
City of Los Angeles Approval M-100017
BBA (British Board of Agrement)
DIN EN ISO 9001
CE Marked
Diverse State Approvals
SAI Global Watermark Certified (Australia & New Zealand)
Codemark Certified (Australia & New Zealand)
Close Accordions
Technical Performance Data
Standard Specification for Rigid, Cellular Polystyrene
4.3hr ft. 2 F/Btu/in (R Value for 1" wedi = 4.3)
Under conditions required in ANSI A118.10-1999
4 week Shear Strength Dry: 216 psi 12 week Shear Strength Dry: 217 psi 100 day Shear Strength Wet: 201 psi
ASTM D4068 / ANSI A118.10-1999
Fungus/Bacteria Resistance
ASTM D751-11 (requirement 8 lb/in width)
Heavy duty commercial use, passed
Wet 131.8 lb./Dry 196.2 lb.
No disintegration/change; Passed
No disintegration; Passed
Surface Burning Characteristics
ASTM E84-16 (NFPA 255, ANSI / UL 723, UBC 8-1) Tested as required without tile on Building Panel surface
Flame Spread Index (FSI): 20 | Smoke Developed Index (SDI) : 70 |Classification: Class A
wedi Shower and Bath Tub Surround Kit
(5) wedi 3ft. x 5 ft. x 1/2 in. Building Panels (914 x 1524 x 12.7mm) | (5) wedi Joint Sealant, 10.5 oz. (310 ml) | (1) Mixing Valve Flexi Collar | (1) Flexi Collar | (1) Corner Putty Knife | 100 ct. of wedi Tab Steel Washers | 100 ct. of wedi Galvanized Screws
Downloads most relevant to this product page are displayed automatically.  If you would like to view other downloads for other products, you may sort by category (Product name & language) or tags (Specific type of file).
Should the file you're looking for not be listed, please email marketing@wedicorp.com for assistance.